Most people don't realize just how critical the Wedding MC is to the success of the reception.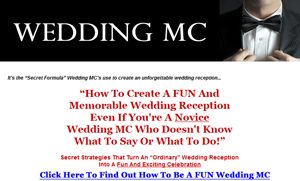 I cannot emphasize enough how important it is for you to be prepared and organized if you're to MC a wedding.
The bride and groom and their families have invested hundreds of hours – and thousands of dollars – to make this celebration a huge event for their guests.
The last thing they expect – or want – is to have everything ruined for them on one of the most important days of their life.
And that can happen if you're not properly prepared…and ready for virtually any contingency.
> Guests can become bored and leave early if they're not having fun.
> The main meal can turn into a big disappointment if it's served late or some of the guests don't get served at all.
> The garter toss and the bouquet toss can become shoving matches as guests scramble for the garter or the bouquet.
> The wedding cake can topple off the table and end up in shambles on the floor as the newlyweds cut the cake.
Of course, contingencies are only one part of your job.
There are many more duties you're responsible for – from creating an agenda to checking the reception venue to introducing speakers to organizing fun activities…as you conduct the events at the reception.
Here are key tips used with permission from How To Be A FUN Wedding MC to help you as you prepare for your role:
1. Be Professional, Diplomatic, Gracious, and Organized
Use your Wedding MC Checklists and Preparation Sheets (found in How To Be A FUN Wedding MC). They're your "lifeline" for ensuring things will run smoothly during the reception.
Maintain a professional, courteous, enthusiastic – and FUN – demeanor throughout the reception.
2. Allow Plenty Of Time To Complete Your Wedding MC Checklists And Prepare Your Notes
Start preparing for the reception early – at least a few weeks before the reception. Otherwise you'll feel rushed and unprepared.
The more prepared you are the more confident you'll feel and the more smoothly the reception will run.
3. Practice Your Scripts
Know what to say at the appropriate time throughout the wedding reception agenda. Get a feel for the flow of your scripts so they sound natural.
4. Make The Bride and Groom The Center of Attention
Even though the guests will pay attention to you when you're speaking, make sure the focus is on the newlyweds.
5. Don't Embarrass Or Humiliate The Bride and Groom
Do not, under any circumstances, make jokes or comments that embarrass the bride or groom.
The groom will be the "target" for good natured fun but there are limits to what should be said. Stay away from mentioning old girl friends, a previous marriage, poor track record with relationships, indiscretions, or a divorce.
And don't force the bride and groom to do something they don't want to do – especially public speaking or something they feel makes them look stupid and would humiliate them.
6. Pronounce People's Names Correctly
Take the time to find out how to pronounce people's names correctly.
Spell the name out phonetically (the way it sounds, not the way it's written) on your checklists, notes, and/or run sheet, if necessary.
7. Make Sure You Have Sufficient Material On Hand To Entertain The Guests
The worst thing that can happen at a reception is for the guests to get bored and start leaving early.
You want to make the reception a celebration. So ensure you have material on hand that creates a fun and party atmosphere.
Wedding Speeches Table of Contents
MC Speeches | Order of Wedding Speeches and Toasts
8. Show Up Early At The Reception Venue
Things can – and sometimes will – go wrong at the last minute. Give yourself plenty of time to make any necessary adjustments before the guests start arriving.
Be at the reception venue at least ninety minutes (if possible) before the reception begins to do a final check of everything.
9. Keep Your Consumption of Alcohol To A Minimum
You won't be able to carry out your Wedding MC Duties as a professional if you're "buzzed" or drunk. So keep a clear head and go sparingly on the alcohol throughout the reception.
Remember: You don't want to be known as the Wedding MC who ruined the bride and groom's big day.
10. Designate Special Areas For The Photographer and/or Videographer
Find out from the Photographer and Videographer whether they need any areas of the reception room specifically cordoned off so they can get the "shots" they need.
11. Follow Your Wedding Reception Agenda (Run Sheet) Closely
Your reception agenda is your guide and timeline during the reception so things move smoothly throughout the allotted time.
Follow your agenda/run sheet (and estimated time frames) to ensure events don't move too quickly or too slowly.
12. Give Advance Notice Of Upcoming Events
Be mindful of the guests and give advance notice of upcoming events so they can refill their glasses, go to the bar, or use the washroom/restroom facilities.
13. Remain Attentive To The Bride and Groom Throughout The Reception
Make sure the bride and groom are served first and ensure they are enjoying the reception.
Ensure that any special requirements they may have are attended to. And ensure they have safe transportation to their destination after the reception.
14. Always Make Sure Everything Is Appropriate And In Good Taste
From entertainment to speeches to announcements to comments – always make sure everything you say is in good taste and appropriate and won't embarrass or humiliate anyone – especially the bride and groom.
15. Personalize The Reception By Using The Bride And Groom's First Names
Instead of calling them the "bride and groom" or the "newlyweds" use the bride and groom's first names as much as possible. After all, the guests know the bride and groom by their first names.
When You Don't Know What To Say or Do As Wedding MC
Many first time or novice Wedding MC's who I've surveyed in the past don't know what to do or say at the reception.
And for good reason – being the MC at a wedding is a huge responsibility.
And if you don't know what you're doing, it can cause a lot of unnecessary stress and anxiety.
Fortunately there is help…and it can save you countless hours of worry and frustration.
Imagine having by your side a step-by-step guide that takes you from beginning to end including…
>> MC Scripts. Know what to say for important events.
>> Sample agendas or run sheets to use as your model.
>> How to create a timeline for the reception so events start and end on time.
>> Fun wedding games. (Even activities for the kids!)
>> Fun entertainment ideas to keep the guests entertained and having fun.
>> How to "kick up" your introductions of speakers for wedding toasts and speeches to make things fun.
>> Checklists and preparation forms so you don't miss the important things that are meaningful to the newlyweds (and there are a LOT of things you need to be aware of).
>> Contingency planning tips. (From weather changes to illness, it's wise to have contingency plans ready.)
>> Essential items to take with you to the reception. From clothing to supplies to props, this is an itemized checklist so you don't forget to take anything important with you.
>> The reception venue checklist on the wedding day. This is your final checklist before the festivities get under way so you're not scrambling around organizing things at the last minute as the guests arrive.
>> And much more…plus 5 valuable bonuses including your indispensable activity guide, The Wedding MC's Secret List of FUN Ideas – with over 50 fun ideas for guest activities.

It's all in How To Be A FUN Wedding MC – the popular Guide used by hundreds of MC's all over the world.
And it will save you innumerable hours of frustration trying to prepare for the reception.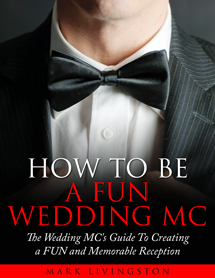 Click The Following Link For How To Be A FUN Wedding MC And Save Yourself Many Hours Of Frustration And Stress!