It's not unusual for there to be an MC at a wedding reception.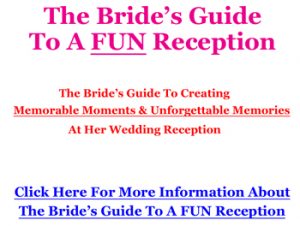 The Master of Ceremonies can also be the Best Man although a separate MC is quite common.
Usually, a reception won't have an MC if it's a short one or there are not very many events planned.
For example, if the reception is an intimate one with a small number of close friends and family or has only a few events because it's a short reception, then it's unlikely that an MC would be required.
Bride and Groom: How To Decide Whether To Choose A Novice MC or A Professional MC
If you're the Bride and Groom, there's no need to agonize over whether to choose a personal or professional Master of Ceremonies.
It really comes down to your budget and the person you choose as MC.
If you have a huge budget or the reception is elegant with many dignitaries, a professional MC might be the wisest choice.
In this case, a professional will normally have more experience in hosting small and large receptions.
And an MC who has extensive experience will be well versed in organizing the events and following the agenda to ensure everything runs smoothly and on time.
He or she will know how to warm up the audience, have a repertoire of wedding jokes, know how to introduce speakers, and will display a high level of confidence.
If the reception has many dignitaries, then the Wedding Speeches and Toasts will be a major event. And it's critical that introductions be made properly and that the event doesn't become boring.
Choosing A Novice Wedding MC
Many Brides and Grooms choose a novice MC to conduct their reception.
First, it's a way of honoring someone close to the Bride and Groom.
In most cases, the MC knows the Bride and Groom or their families personally.
So it feels more intimate to have someone the newlyweds know conduct their reception.
As well, in many cases the wedding budget doesn't allow for an expenditure of hundreds or thousands of dollars for hiring a professional.
As I said, the novice MC is usually a close friend or family member.
It might be the Best Man.
It might be the Father of the Groom.
The advantage of having a close friend or family member as MC is that they'll want to do an outstanding job to make your wedding a memorable celebration.
What's more, they may know many of the people who will be giving wedding speeches and toasts. That makes it far easier to prepare introductions for the speakers and help them prepare their tributes.
Qualities To Look For In A Novice Wedding MC
There are certain qualities that an MC should have. They are particularly important at a reception where there is an agenda and timeline to follow.
These attributes include:
1. Extroverted personality – You need someone who is outgoing. A mixer. Someone who isn't afraid to meet new people and talk to them.
2. Well organized – You need someone who can multi-task and who doesn't freak out when having to keep an eye on several things at once.
3. Gracious demeanor – You need someone who is courteous and kind and treats everyone equally and is sensitive to traditions.
4. Well spoken and articulate – You need someone who has command of the Queen's English and is clear and can be understood.
5. Fun to be around – What a joy to be around someone who is fun, someone who makes you feel good and makes you laugh.
6. Confident – Your MC should be composed and self-assured, secure in the knowledge that what he or she does is the right thing to do.
7. Enthusiastic – Everyone loves enthusiasm and a person who is eager to enjoy things.
8. Reliable – You must be able to sit back and know that things will be done the right way and on time.
Choosing a novice MC means they probably won't be familiar with the duties and responsibilities of the Wedding MC.
He or she will need to prepare MC Scripts…prepare an agenda or run sheet…make MC Speeches…introduce the Bridal party…introduce the Bride and Groom as they make their Grand Entrance…make Wedding MC jokes…co-ordinate the entertainment…and create a fun time for the guests and the newlyweds.
It's a huge responsibility.
And not one to be taken lightly – by the newlyweds or the MC.
When you consider that the average wedding cost is over $25,000 in the U.S. and up to one-half of that amount can be spent on the reception, it's important that you choose an MC who will do a good job.
But it's more than doing a good job.
It's also about making it a fun time for everyone.
The reception is what many guests will remember about the wedding.
So you want to ensure that things go smoothly.
And you want to create a fun experience for them.
If you're the Bride and Groom, you shouldn't just hand the reins over to someone and trust that they'll know what to do.
Instead, it's much wiser if you can help your MC get up to speed with their duties.
A Comprehensive Guide For You And Your Wedding MC
And there's only ONE guide, in my opinion, that's comprehensive enough to do that – one that takes a novice Wedding MC practically by the hand and shows him or her how to prepare a FUN and Memorable reception.
Your MC will discover:
1. How to create an itemized agenda from start to finish
2. How to prepare a reception timeline that lists all the events
3. How to prepare the Welcome Speech – one of the most important MC Speeches – at the start of the reception
4. How to prepare FUN introductions of guest speakers and toasters
5. What to include in entertainment and FUN activities – whether it's an indoor or outdoor reception (plus ideas for fun activities for the kids!)
6. What to check for at the reception venue so there are no last minute surprises before the party gets underway
7. How to prepare for introducing the Wedding Party, the Bride and Groom's Grand Entrance, the dancing (including the First Dance), the cake cutting, the bouquet toss, the garter toss, and the final farewell
And that's just the beginning. There is so much MORE…
The Bride's Guide To A FUN Reception is filled with checklists, preparation sheets, forms, and tips – all designed to make the reception run smoothly while everyone is having the time of their life.
You can save hundreds – even thousands – of dollars by selecting your own Wedding MC.
And you can rest easy that your reception will be in good hands knowing your MC is following a Comprehensive Guide – your guide – that turns your reception into a FUN time as you celebrate one of the most important days of your life.
 Find Out More: Click The Following Link For The Bride's Guide To A FUN Reception